Mega-Birds (a tongue-in-cheek working title) is an exploration of the micro within the macro. It is an examination of scale that plays with the mindís ability to constantly re-interpret what the eye sees. It is a project that has taken many years to successfully percolate to the surface. Several times in the past Ben has tried different approaches to expressing the concept. The common thread linking each of these abandoned attempts has been the desire to use knotwork as the defining design element.

This fresh effort sees Ben using one of his older designs as the framework for the project. His Twin Bird design will be familiar to many of our patrons, it being one of the original designs produced as jewelry for sale through The Enchanted Glyph. Fewer are aware that silver and bronze are not the only incarnations this particular design has seen. In 1998 Ben evolved his original black and white design into an eight-color silkscreen project. He hand pulled a very limited edition of 41 of these prints.

The design got more than an infusion of color at that time. It underwent its first change in scale, increasing to approximately ten times the size of its jewelry presentation. The current project has brought another X10 leap in scale and palette. The working size of the Mega-Birds is approximately 11 feet. Still far from complete it already contains 36 colors and may end up with as many as 80.

The Mega-Birds currently exists in the land somewhere between hobby and obsession, with Ben giving it as much of his free time as he can spare. Some days this translates to as many as six or seven hours. Even at this rate he anticipates the project might take a year or more to complete. It is, at least for now, a case of the journey being more important than the destination.

This particular journey is being made in a variety of vehicles. It started with Benís vectorized version of his original design. He scaled it up so far that all of the lines became spaces; long channels waiting to be filled. If printed-out full size on 8 ĹĒ X 11Ē sheets the whole design would cover 221 pieces of paper. He has printed about 150 pages (the left bird and midline). These pages are the roadmap for the long trip ahead. Preliminary designs and knotting challenges are first worked out on paper but the majority of the project work is done in the computer. Over the years Ben has grown more and more adept at using the computer as a precision drawing instrument. Rather than scanning his paper drawings he uses vector-based software to redraw and fully develop his knotted designs. This process is both tedious and time consuming. Fortunately it is a labor of love.

Benís plans for the Mega-Birds may be largely shaped by the response it gets as it is being created. He has discussed and daydreamt many possibilities. Thoughts of being able to exhibit the piece at full size are particularly exciting, though fraught with production and display obstacles to overcome. He has talked about prints produced at one-third scale. He has even considered specialty palette runs, offering limited editions in custom colors. These and other options will surely be faced more seriously as the project gets farther down its road. In the mean time he hopes you will enjoy following along with this work in progress.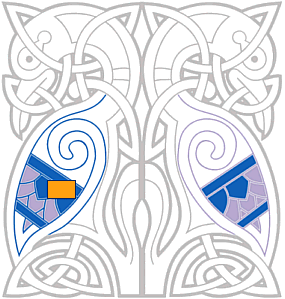 | | | |
| --- | --- | --- |
| FINISHED | ROUGHED IN | SCREEN SHOT |